About us
The BioMates project aspires in combining innovative 2nd generation biomass conversion technologies for the cost-effective production of bio-based intermediates (BioMates) that can be further upgraded in existing oil refineries as renewable and reliable co-feedstocks. The resulting approach will allow minimisation of fossil energy requirements and therefore operating expense, minimization of capital expense as it will partially rely on underlying refinery conversion capacity, and increased bio‐content of final transportation fuels.
BioMates Process
The BioMates approach encompasses innovative non-food/non-feed biomass conversion technologies, including ablative fast pyrolysis (AFP) and single-stage mild catalytic hydroprocessing (mild-HDT) as main processes. Fast pyrolysis in-line-catalysis and fine-tuning of BioMates-properties are additional innovative steps that improve the conversion efficiency and cost of BioMates technology, as well as its quality, reliabi­lity and competitiveness. Incorporating electrochemical H2-compression and the state-of-the-art renewable H2 production technology as well as optimal energy integration completes the sustainable technical approach leading to improved sustainability and decreased fossil energy dependency.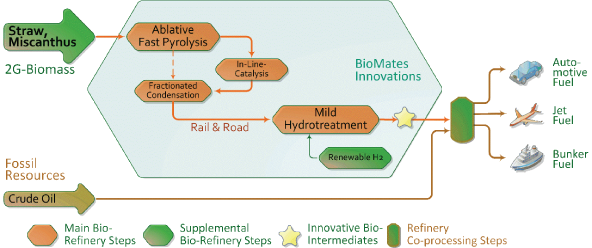 The proposed technology aims to effectively convert residues and non-food/feed plants or commonly referred to as 2nd Generation (straw and short rotating coppice like miscanthus) biomass into high-quality bio-based intermediates (BioMates), of compa­tible characteristics with conventional refinery conversion units, allowing their direct and risk-free integration to any refinery towards the production of hybrid fuels.
With European Commission support
The current framework strategy for a Resilient Energy European Union demands energy security and solidarity, a decarbonized economy and a fully-integrated and competitive pan-European energy market, intending to meet the ambitious 2020 and 2030 energy and climate targets (COM(2014)15 final, COM(2015)80 final). Towards this goal, the European Commission is supporting the BioMates project with a subsidy of 5.9 Million Euro via the Horizon 2020 program for validating the proposed innovative technological pathway, in line with the objectives of the LCE-08-2016-2017 call. The BioMates approach for decarbonizing the transportation fuels will be demonstrated demonstrated via pilot units in industrially relevant environment ("Technology Readi­ness Level" 5). This will allow for the development of an integrated, sustainability-driven business case encompassing commercial and social exploitation strategy.

The content of this webpage reflects only the authors' view. The European Commission and the Innovation and Networks Executive Agency (INEA), representing the European Commission in therms of this project, are not responsible for any use that may be made of the information it contains.


| | | | |
| --- | --- | --- | --- |
| | | | This project has received funding from the European Union's Horizon 2020 research and innovation programme under grant agreement No 727463 |